---
Posted on January 19, 2016
---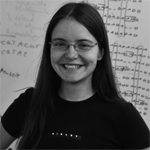 ---
We are very pleased to introduce Prof. Dr. Manja Marz as a member of our NGS Expert Network.
Prof. Dr. Manja Marz studied biology and computer science at the University of Leipzig, and received her Ph.D. in bioinformatics from the University of Leipzig in 2009. After leading a Group at the Philipss-University of Marburg and Junior-Professorship at the Friedrich-Schiller-University Jena, she got two calls for professorships at University of Lübeck and Friedrich Schiller University Jena in 2014. Since 2015 she holds a full professorship at Friedrich Schiller University Jena. She is also Founding member of MSCJ (Michael Stifel Zentrum Jena for Data-Driven and Simulation Science), Board member of ZAJ (Aging Research Center Jena), Founding and board member of FIFI (Fördervereinverein des Instituts für Informatik) and Group leader at Leibniz Institute for Age Research – Fritz Lipmann Institute.
Her research interest include High Throughput Sequencing Analysis, Comparative Genomics, Identification and Annotation of Non-coding RNAs, Bioinformatic Analysis and System Biology of Viruses, Coevolution of Proteins and RNAs, Algorithmic Bioinformatics and Phylogenetic Analysis.
---